The Nagasawa family trip to France: May 1 - 15, 2011
Main Page, France trip May 2011
Paris (Seine River)

May 1
Arrive in Paris, Eiffel Tower
May 2
Louvre Museum, Jardin Tuileries
May 3
Cathedrals, Jardin Luxembourg

Sarlat (Dordogne River)

May 4
Sarlat
May 5
Cave paintings, Roque St. Christophe
May 6
Castles, Laines at Blagnac

Blagnac (Garonne River)

May 7
Laines at Blagnac, L'Amphitryon
May 8
Toulouse, Hiking
May 9
Cite L'Espace
May 10
Toulouse

St. Remy, Lyon (Rhone River)

May 11
Nimes, St. Remy
May 12
Pont du Gard, Camargue
May 13
Des Baux, Avignon
May 14
Lyon
May 15
Train to Paris, fly home
May 7
The Laine Family in Blagnac
Here is the adorable Lucas Laine welcoming John and Zoe into his room. This was in the morning after our first night there.
Adventures with Lucas: While Gabrielle stayed at home to nap, Lucas led us on a walk down his street to a park in Blagnac.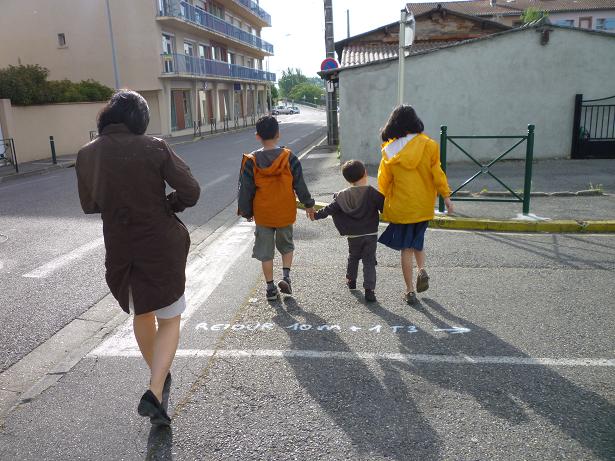 This statue was rather bizarre...and big.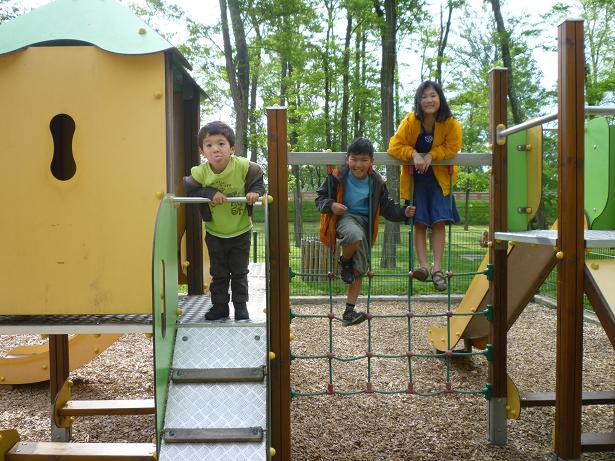 Zoe needed a little rest from the boys at one point.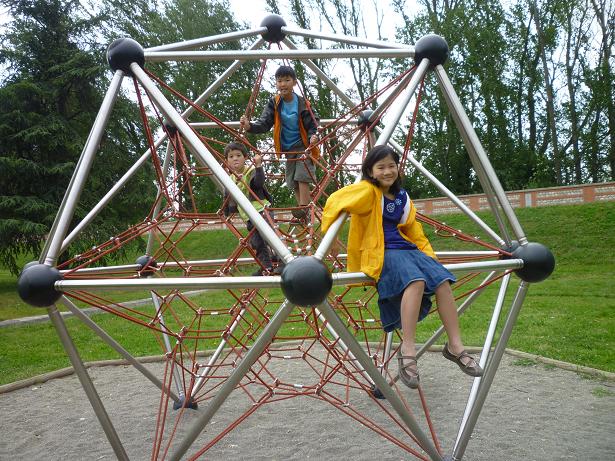 On our way back home, Lucas pretended to call his mom to make sure we were going in the right direction. Reunited with his little sister, Lucas gave Gabrielle a big hug. Adorable!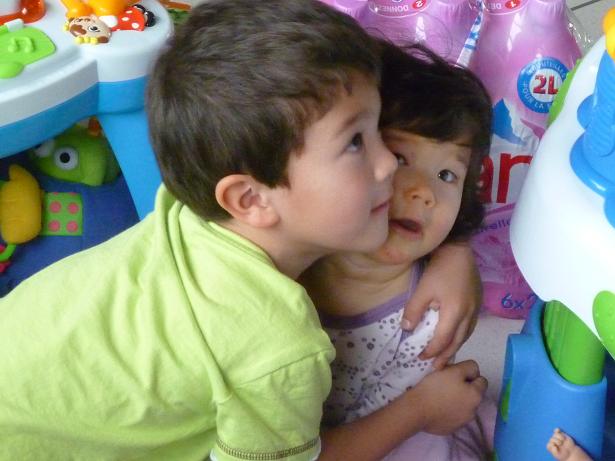 John and Zoe also had fun playing with Gabrielle in her little toy corner. Nice use of Evian water bottles.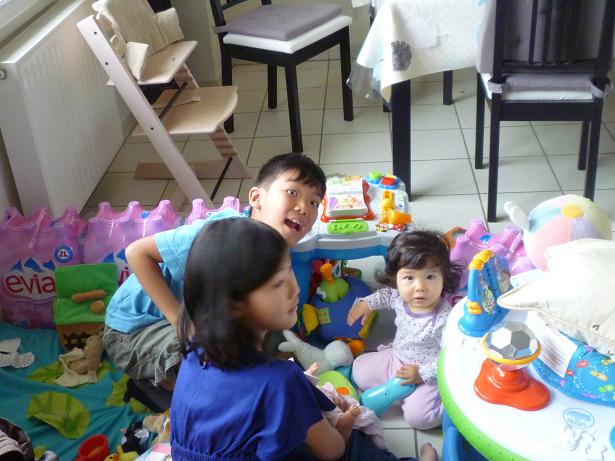 For lunch, Mari made us delicious crepes! We tried different kinds of spreads: lemon, cherry, nutella, and apricot.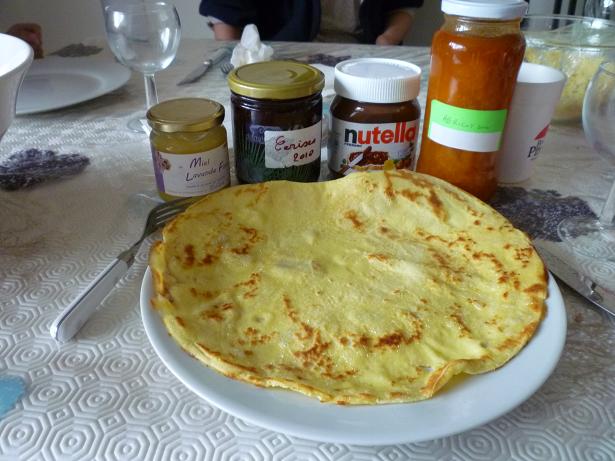 After a relaxing afternoon, Mari and Richard took Ming and me to a super nice restaurant called L'Amphitryon. There was a statue of a rooster outside, and I forget the significance of it...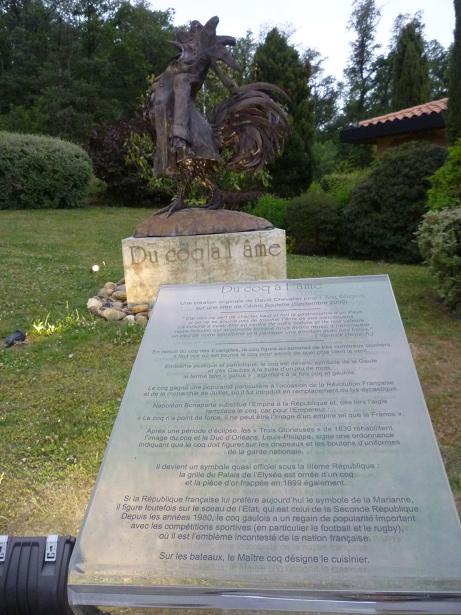 The inside...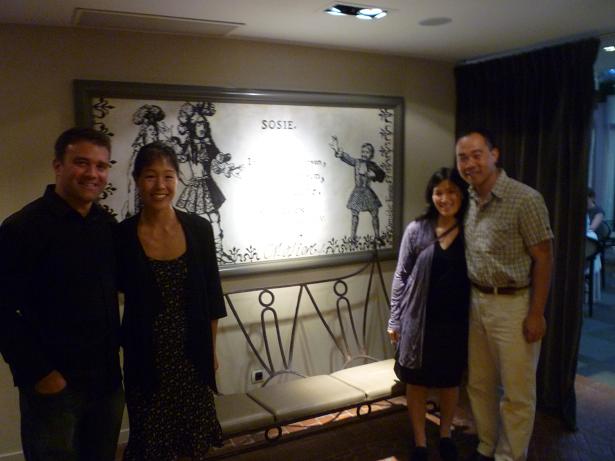 Richard and Mari looking sharp as always! We were seated right next to the glass doors and the porch outside.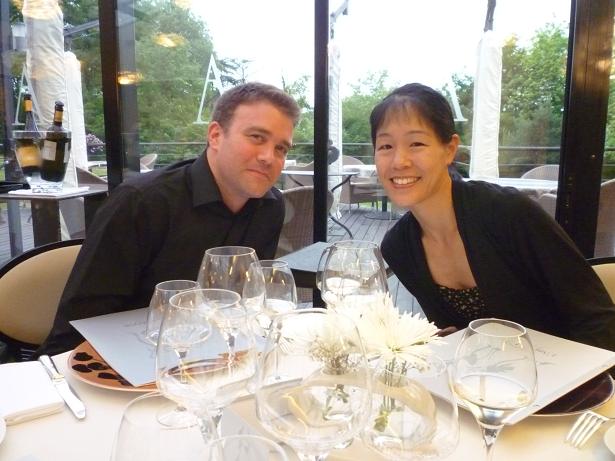 Duck Foie Gras in liquid form, and fennel! This was a nice little appetizer. Great tongue teaser.
Then there was some kind of raspberry sorbet to cleanse the palate.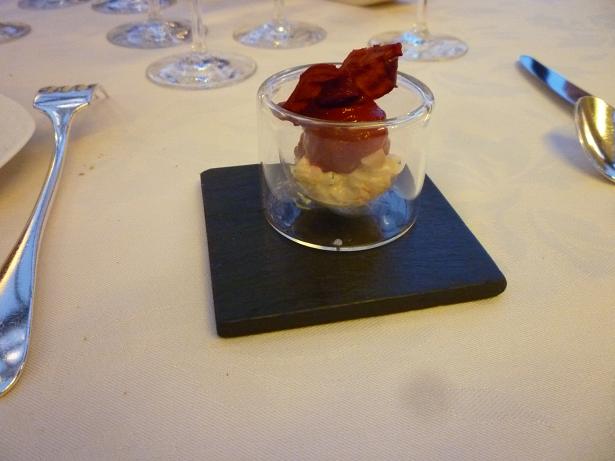 Crusty and fondant fennel, along with grilled cumin toast. Mmmm...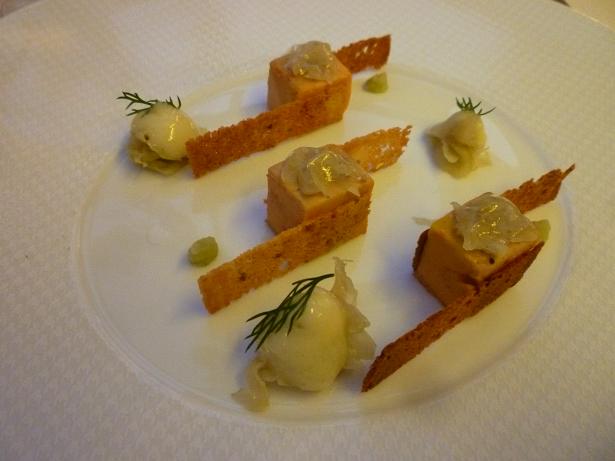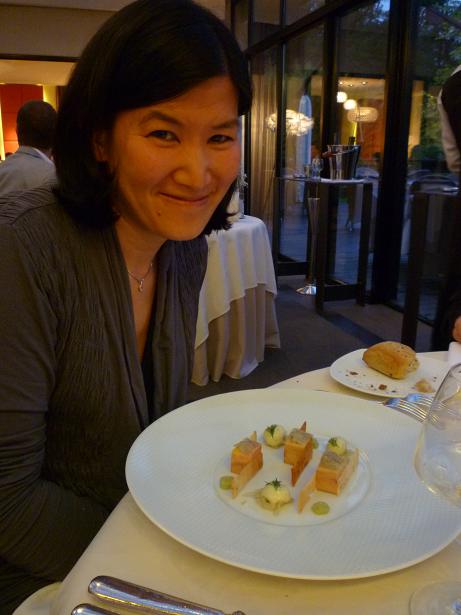 Fresh cod slightly cooked in olive oil, along with special oysters in a lettuce cream, and green vegetables.
Small pigeon poached in smoke tea (the Chinese lapsang suchon) and roasted, along with cabbage leaf, infusion of the consomme.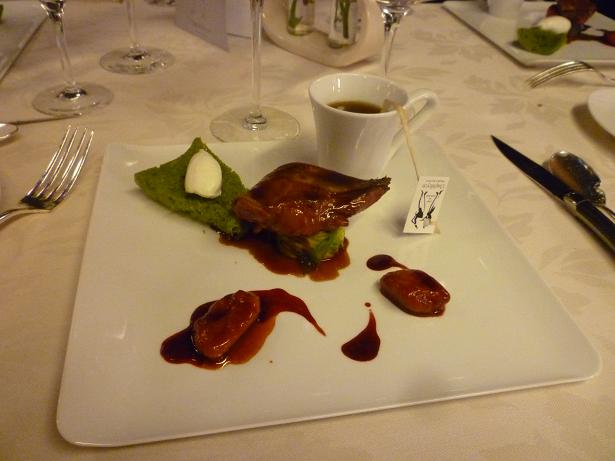 We were having such a great time sharing stories, and then the cheese carts came!
Cheese cart #1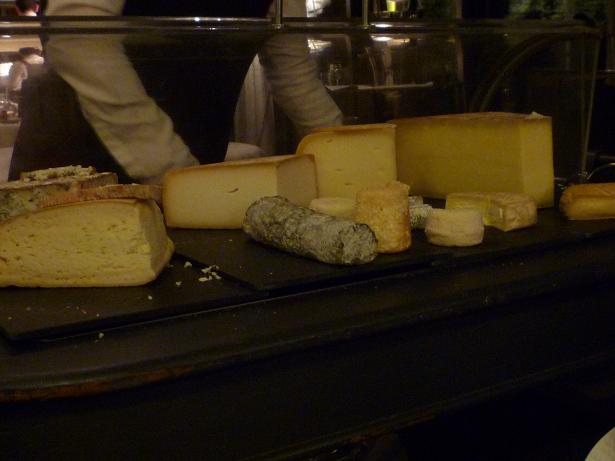 Cheese cart #2
This was just awesome. Some cheeses were really smooth, some sharp, some blue and tangy. I wish I knew more about cheeses. Those three jams were a nice complement to the cheeses.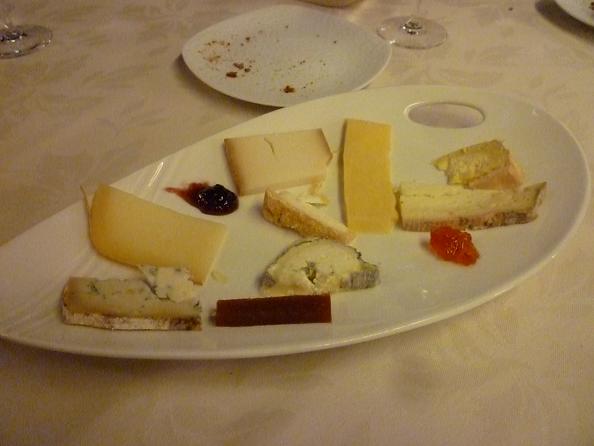 Dessert #1: Strawberries with crunchy merengue, topped with a sorbet made out of parsley. This was surprising and delicious!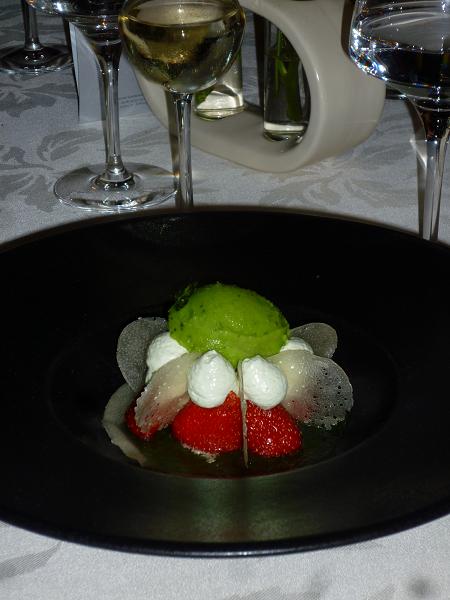 Dessert #2: Sweets from the house.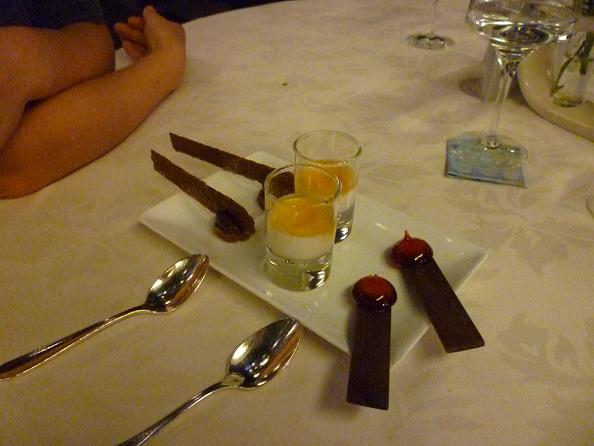 We were stuffed.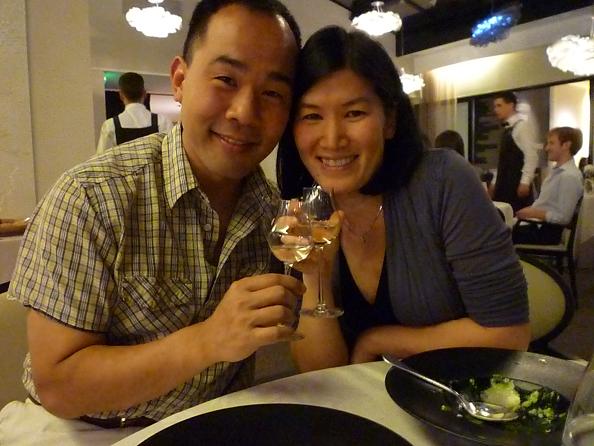 We thought it would be good to remember the interesting lights on the ceiling.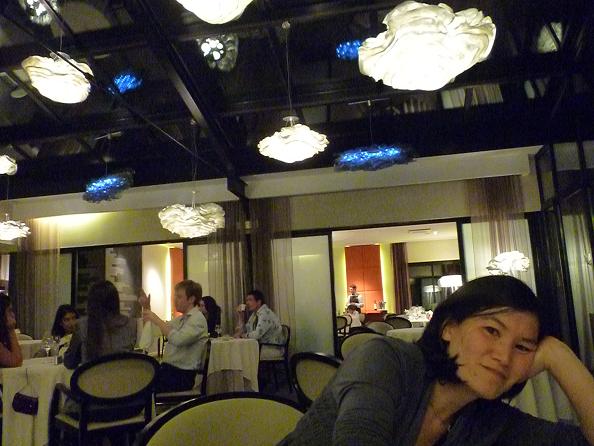 Main Page, France trip May 2011