The Nagasawa family trip to France: May 1 - 15, 2011
Main Page, France trip May 2011
Paris (Seine River)

May 1
Arrive in Paris, Eiffel Tower
May 2
Louvre Museum, Jardin Tuileries
May 3
Cathedrals, Jardin Luxembourg

Sarlat (Dordogne River)

May 4
Sarlat
May 5
Cave paintings, Roque St. Christophe
May 6
Castles, Laines at Blagnac

Blagnac (Garonne River)

May 7
Laines at Blagnac, L'Amphitryon
May 8
Toulouse, Hiking
May 9
Cite L'Espace
May 10
Toulouse

St. Remy, Lyon (Rhone River)

May 11
Nimes, St. Remy
May 12
Pont du Gard, Camargue
May 13
Des Baux, Avignon
May 14
Lyon
May 15
Train to Paris, fly home
May 2
This was our day to see the Louvre Museum, which houses an amazing collection of art and historical artifacts. Here we are standing in one of the lines.
Hercules slaying the hydra. Notice the glower starting on Zoe's face. Track that theme throughout the Louvre pictures.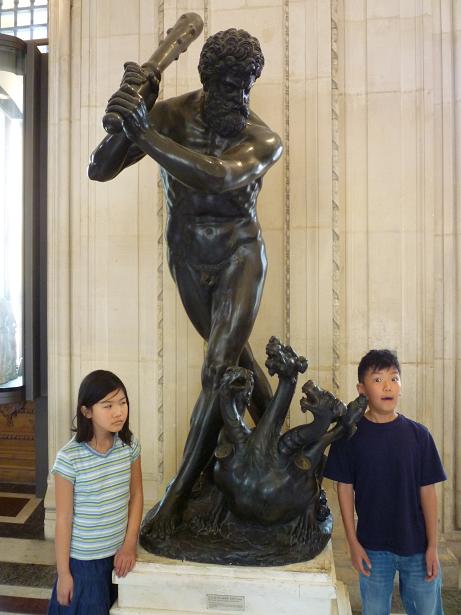 I didn't know Romulus and Remus were so buff. How can you have Michelin man thighs and deltoids like that? Perhaps it's the wolf milk?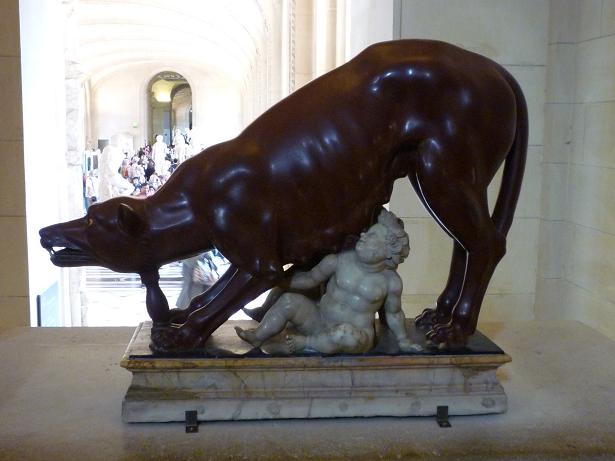 A magnificent room in the Louvre.
The winged victory.
Awesome painting of other paintings. All of them are about ancient Rome.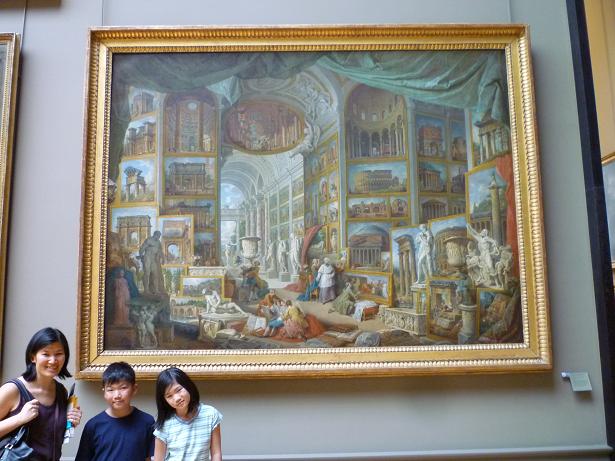 This incredible painting by John Martin, called Pandemonium, portrays Lucifer trying to persuade other angels to follow him. I'm very impressed by John Martin. Google him and find his other work.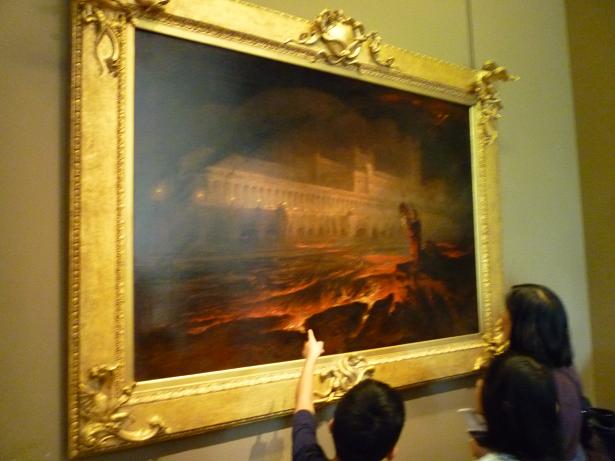 There was a huge crowd around Mona Lisa. Ming got shoved out of the way by an older Asian man. Her reply: "Seriously?"
John and Zoe weren't that impressed.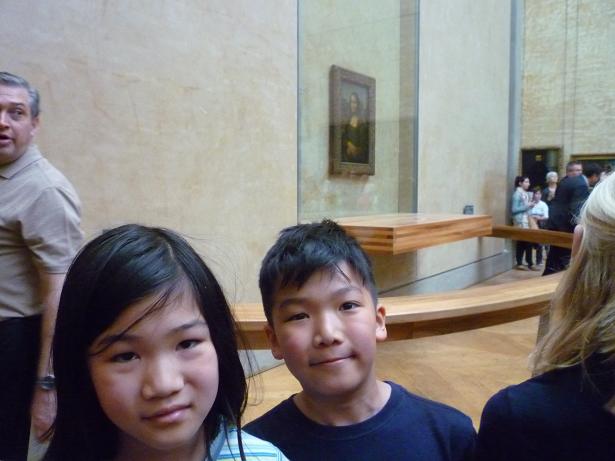 Michaelangelo's Slaves, another sculpture classic. Impressive detail on the strain on the muscles, but I think the expression on their faces is a bit too neutral.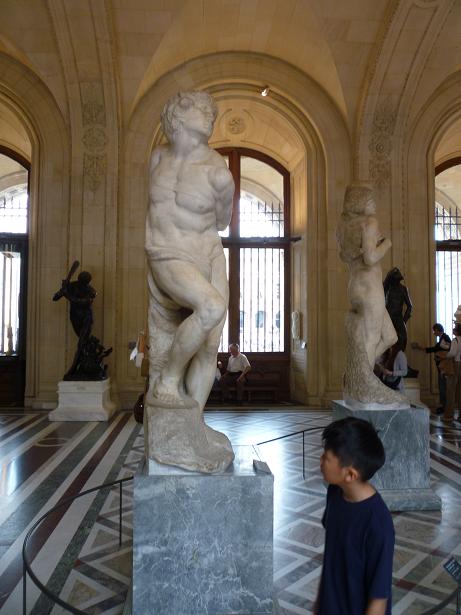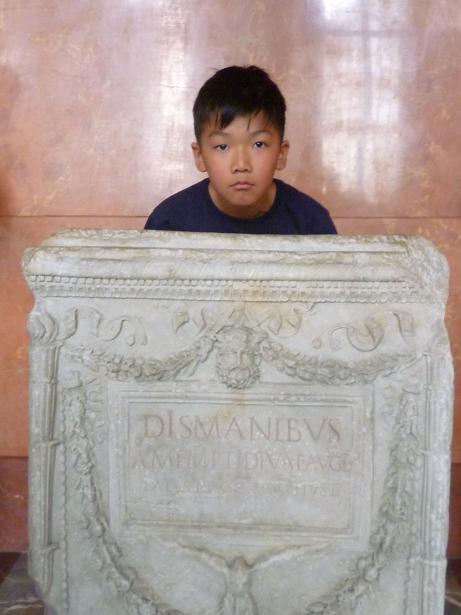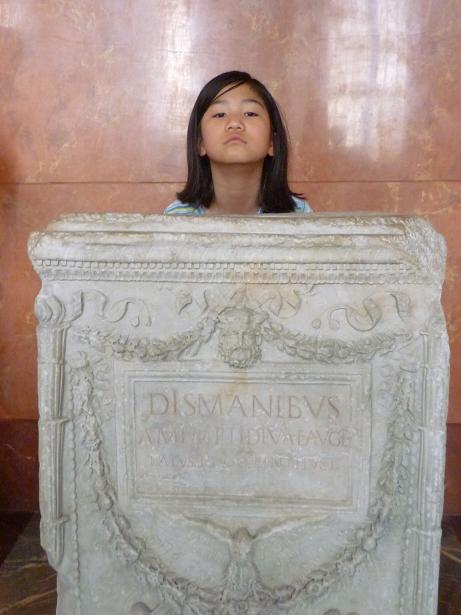 The Venus de Milo. Ripped abs back then?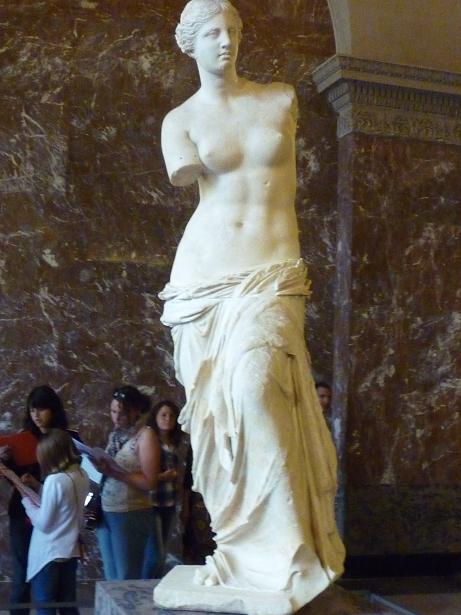 Athena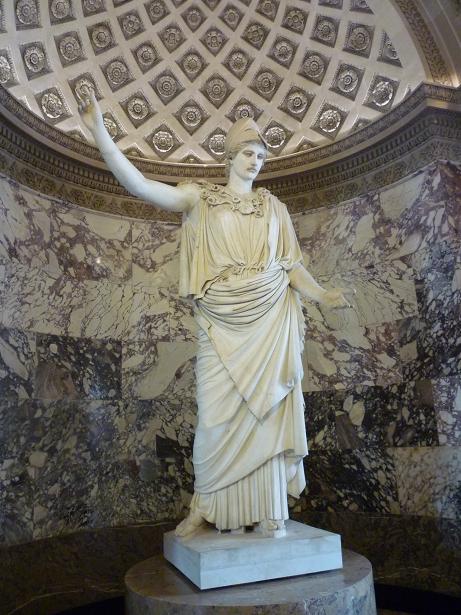 The old Louvre. It used to serve as the royal palace until Louis XIV built Versailles. Zoe's face: unhappy.
The Egypt section. Zoe's face: grouchy.
Seeing Horus got John talking about the books by Rick Riordan about the gods of Egypt.
I was interested in what kind of gold objects and jewelry the Egyptians might have given to the Israelites when they left in the Exodus. Here are a few.
Surprising amusement. The first smile Zoe cracked in a while because of cool air coming up through a vent.
Sarcophagi.
A gigantic bowl. No kidding.
Carvings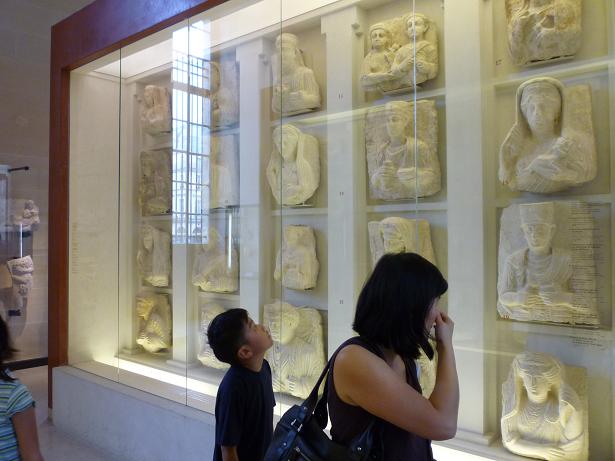 Pharaoh Akenaten, who introduced an exclusive monotheism around the 1300's BC. He prohibited the worship of the other Egyptian gods. Fascinating character. I wonder if he was influenced by the Hebrews? In any case, once he died, everything reverted back. The priests reinstated worship of the Egyptians gods. Records of Akenaten's reforms were virtually all abolished. For more, see Rodney Stark's book, Discovering God.
An incredible ceiling.
John was curious about this statue, but this curiosity does represent his general appreciation for the things he was seeing and learning. Zoe's curiosity emerged later when we saw caves, castles, and Roman ruins.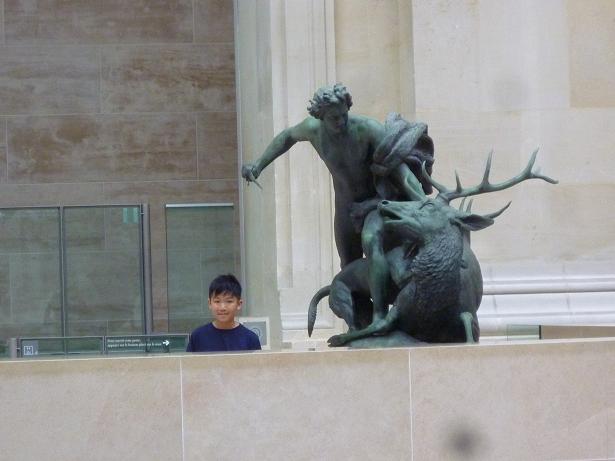 We bought 11 Euro tickets to an exhibit connected to Rembrandt focused on Jesus. But it turns out that the display was a collection of work by his disciples. I was totally disappointed. I was also disappointed in my photography here, but that was because technically I wasn't supposed to be taking pictures.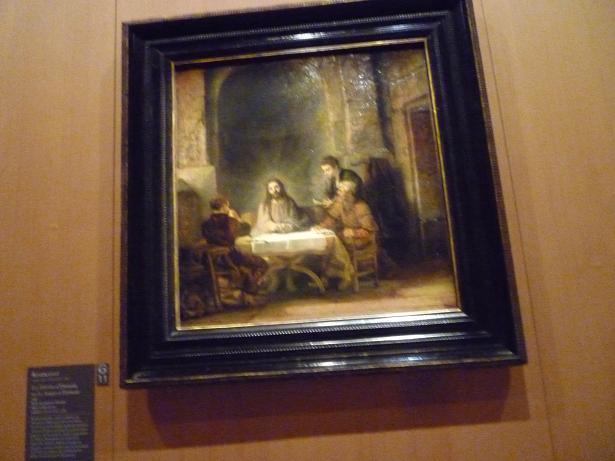 We took a break from the Louvre to go meet my friend Clyde Choi, who was in the Paris area teaching English for the past year.
Here we are at the nicest chocolate place in Paris: Angelina.
We got some hot chocolate. It so thick you could eat it with a fork. Delicious. Notice Zoe's face: excitement!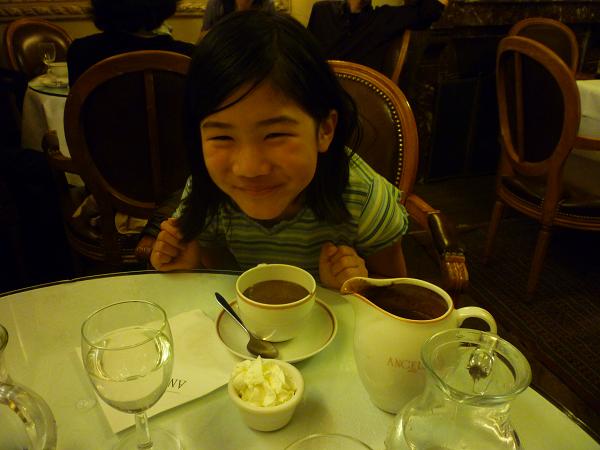 We took a short walk through the Jardin de Tuileries right outside the Louvre.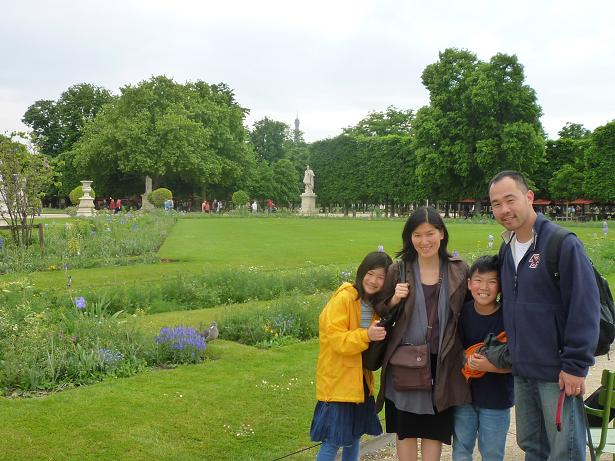 We dashed back into the Louvre and saw the Babylonian section. Here's the famous Moabite Stone. This black basalt Stone is significant because it bears an inscription by Mesha of Moab in Jordan from about 840 BC. The inscription mentions Mesha's victories over "Omri king of Israel" and his son, who had been oppressing Moab. It is the most extensive inscription ever recovered that refers to ancient Israel and the "house of David," which some scholars had written off as a complete invention. It bears what is generally thought to be the earliest extra-biblical Semitic reference to the tetrgrammaton YHWH.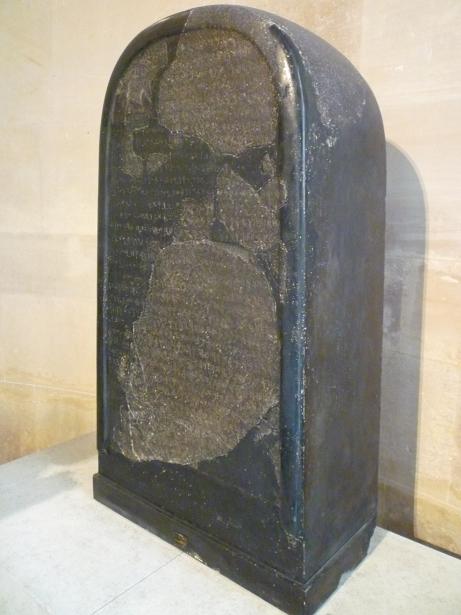 This statue is supposed to be 4,000 years old.
The Babylon section: Massive stone walls, murals, and statues. Unfortunately the room with the Code of Hammurabi was closed.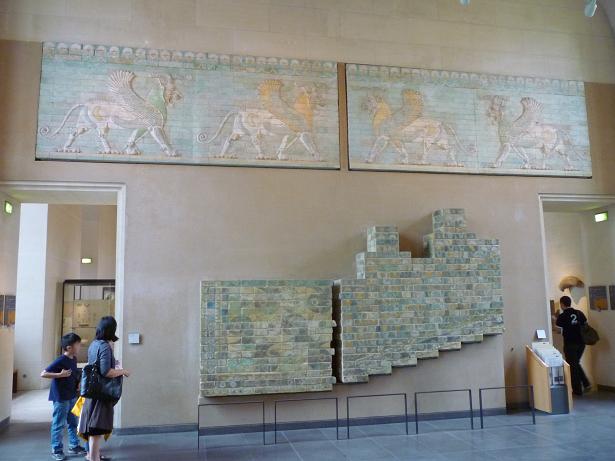 Wow. What the Israelite captives must have felt when being marched to Babylon.
Then we went with Clyde to dinner at a restaurant called Frenchie. It was really, really delicious. This was one of the hors d'oeuvres. Yes, they put flowers into the pasta sauce.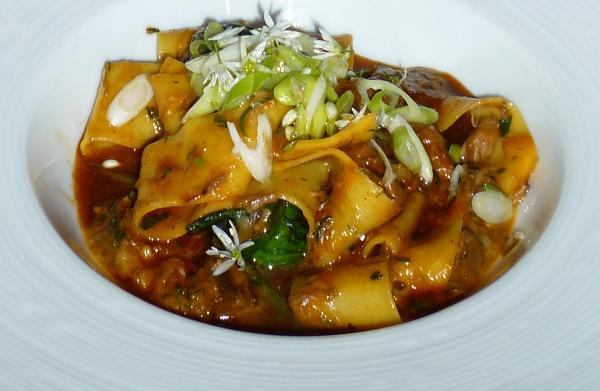 Salmon with lavender flowers, pickled cucumber, red onion.
This fish might have been the most delicious fish I've ever had. The sauce was tart, made with some kind of berries. The cabbage and onion had a sour vinegar flavor with herbs. The fish itself was salty. Amazing combination.
Zoe's dish was a veal. She was happy about the food.
These lemon tarts were incredible. Best ever.
A street shot outside of Frenchie.
Main Page, France trip May 2011