The Nagasawa family trip to France: May 1 - 15, 2011
Main Page, France trip May 2011
Paris (Seine River)

May 1
Arrive in Paris, Eiffel Tower
May 2
Louvre Museum, Jardin Tuileries
May 3
Cathedrals, Jardin Luxembourg

Sarlat (Dordogne River)

May 4
Sarlat
May 5
Cave paintings, Roque St. Christophe
May 6
Castles, Laines at Blagnac

Blagnac (Garonne River)

May 7
Laines at Blagnac, L'Amphitryon
May 8
Toulouse, Hiking
May 9
Cite L'Espace
May 10
Toulouse

St. Remy, Lyon (Rhone River)

May 11
Nimes, St. Remy
May 12
Pont du Gard, Camargue
May 13
Des Baux, Avignon
May 14
Lyon
May 15
Train to Paris, fly home
May 4
Sarlat is a town in the Dordogne River region. To get there from Paris, we took a train to a neighboring town and then rented a car. Here we are eating lunch on the train.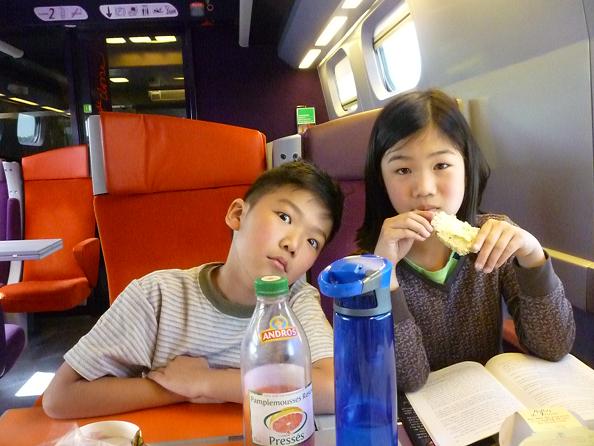 Sarlat had a beautiful campground. It had tennis courts, swimming pools, a playground, and lots of trees and grassy areas.
Here's the restaurant where we had dinner.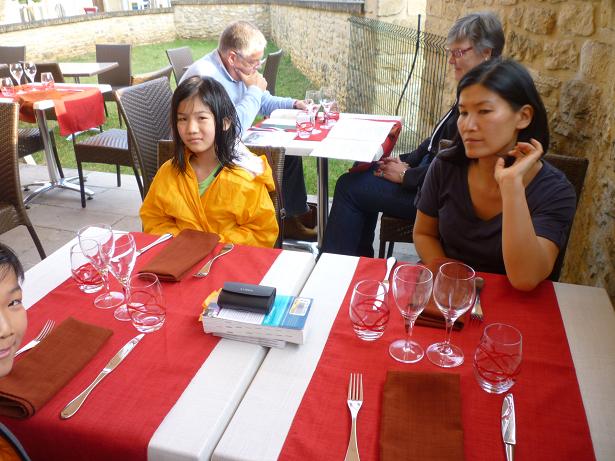 For starters, we had cream of asparagus soup (since asparagus was in season right then), thin strips of pork with piment d'Espellette with herb vinaigrette, and duck foie gras (liver pate).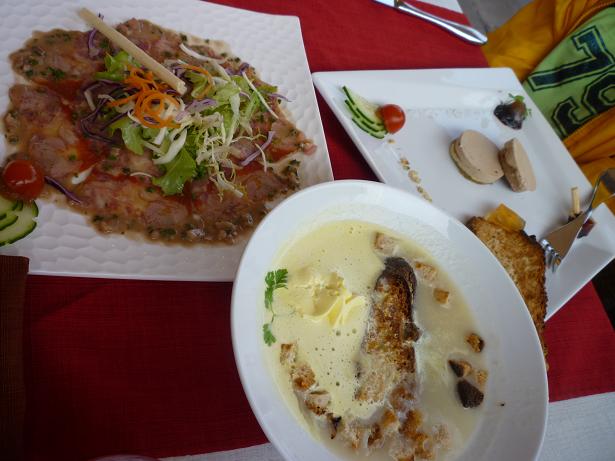 This is a sampler plate of foods for which Sarlat and the Dordogne River region are well known: duck, goose, golden potatoes, and mushroom truffles. There was a nice goose breast, candied, on fried potatoes; gazpacho with mushrooms, dried duck ham, goat cheese, duck liver pate, candied goose gizzards, nut creme brulee, and a chocolate brownie.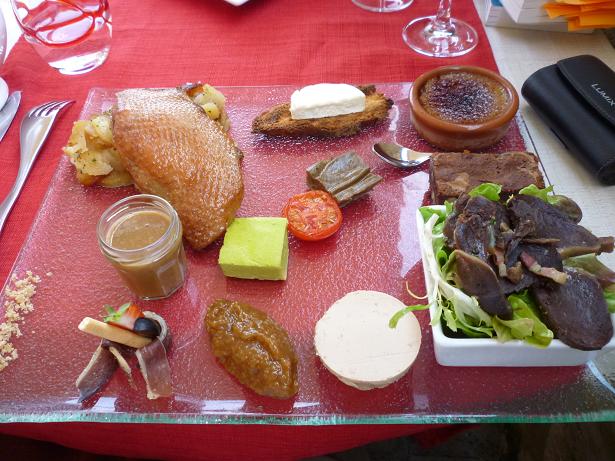 John got a thick slice of duck with orange sauce, along with potatoes, lentils flavored with duck ham, and liver pate.
I got a cut of flank steak (organic), with goat cheese sauce, potatoes, lentils, and duck liver pate.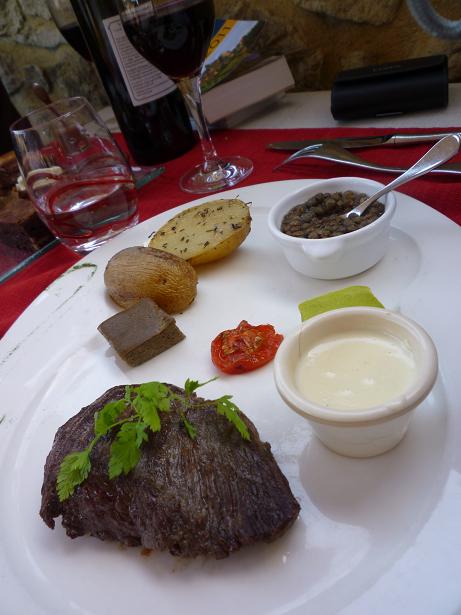 Zoe got brandade of cod mixed with mashed potatoes with a mushroom sauce, salad, and duck liver pate.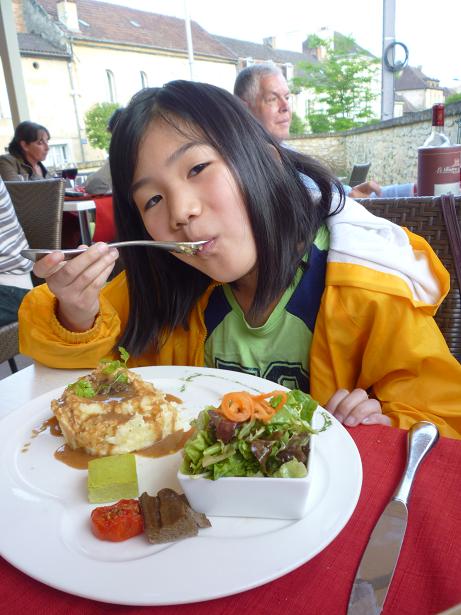 For dessert, we had a brownie with walnuts and ice cream, cottage cheese cooked with yellow fruit (mango, peach, apricot), and a floating island of merengue in a sea of light caramel sauce.
Then we took a walk around the town of Sarlat in the evening.
The city was quite charming at sunset.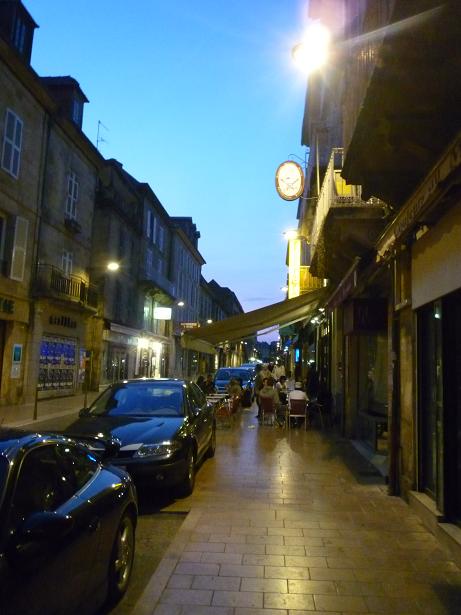 John jokingly pretending to smoke a cigarette. We had had a conversation over dinner about why smoking is bad for your health.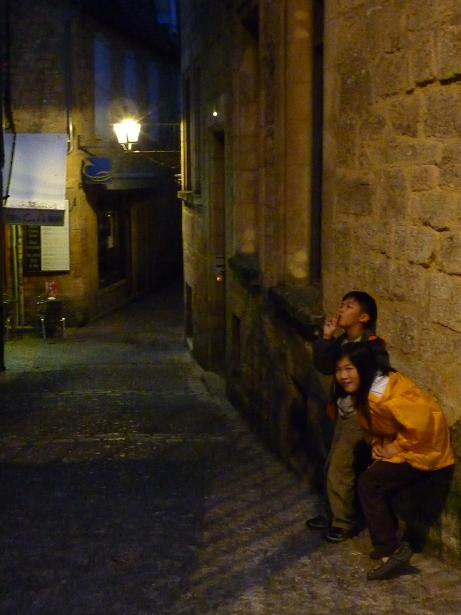 The Sarlat cathedral in the background.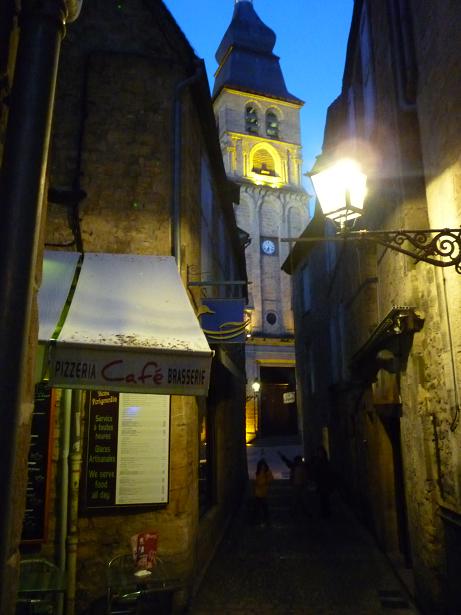 Foie gras stores were everywhere! Typically you eat this on toasted bread.
The town plaza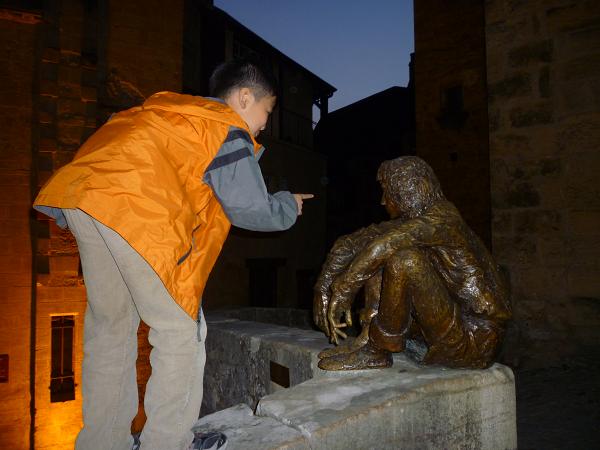 Golden geese statues, a tribute to one of the region's main foods.
Main Page, France trip May 2011